Celebrating WoW's 4th birthday
Make sure you log in today!
Everyone who logs in on November 23, 2008 is getting a nice surprise from Blizzard: a cute little Baby Blizzard Bear companion pet!
The gift is a celebration of World of Warcraft's 4th birthday on this day.
As soon as you log in, you'll find mail waiting for you, with this message:
"Did you know that the World of Warcraft is now four years old? We wanted to send you something to say thanks for sharing this game with us. Sure, the 4th Anniversary present is traditionally "Flowers" … but in WoW, it's "Bear". With that said, please accept this furry little friend! Just remember to hold his fish by the tail, not the body … that mouth is bigger than it looks."
Adding to the surprise is the "WoW's 4th Anniversary" Achievement you get for logging in. The Baby Blizzard is bound to your account, so you can share it among all your characters. This means you don't actually have to log in on every character to get the pet, since you can send it around by mail, and "learn" the pet on each character. But I think you have to actually log in on each character to get the special Achievement.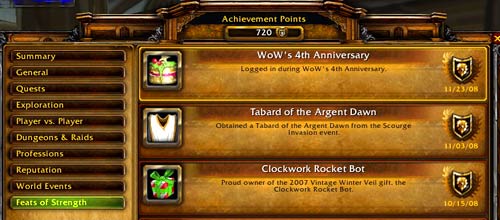 Sweet surprise, Blizzard!